According to the 2017 census, Bridgeport, Connecticut has a population around 151,267 people.  Its first documented English settlement was in 1644.  It quickly grew and became a center for whaling, shipbuilding and trade.  It is considered the largest city in the state with easy access to Manhattan, sixty miles away, and the Bronx forty miles away.
P.T. Barnum lived in the city and was the mayor in the late 19th century.  During the winters he housed his circus in his four houses.  Bridgeport, Connecticut is also known as the birthplace of the Frisbee.
Now considered a destination for cultural and sporting events, Bridgeport, Connecticut is attracting new residents.  With over three hundred restaurants to choose from the competition is pretty stiff.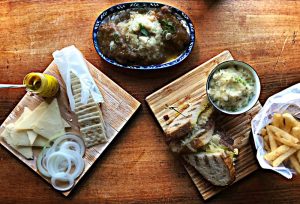 Tautog Tavern is in the Black Rock area of Bridgeport, Connecticut.  It is a true New England-style tavern that goes to great lengths to bring the best food to the area.
Owners, Chris Andrews, grew up in Cork, Ireland and spent most of his twenty's in Munich, Germany.  Before settling in New York City, Chris took a year to backpack through Southeast Asia.  After he joined the Fayerweather Yacht Club in Black Rock, Chris fell in love in the community and decided to open Tautog Tavern.
Chris strives to bring only the best products to his Tautog Tavern.  From the one hundred and twenty-year-old hunk of wood he uses as his bar top to the tasting of twenty-five pounds of hamburger meat to make their signature "Tavern Burger".
Tautog Tavern only has sixty-seven reviews online, but they give them a strong four-plus rating.
Managing Partner and Executive Chef, David Snyder brings decades of experience to his new restaurant, Brick Walk Tavern.  A graduate with high honors from the Culinary Institute of America, David has forever been a student of pairing, process and food.
Brick Walk Tavern is located in Fairfield, just about a hop, skip and jump from Bridgeport.  Chef Snyder whips up some amazing meals.  Their Steamed Main Mussels are serviced with Spanish chorizo, roasted jalapeno and toasted garlic tomatillo broth.  Their Dry Aged Prime Burger or their French Dip is sure to satisfy any appetite.  For a bigger dish, try their Veal Meatloaf with herbed spaetzle, garlic kale in a mushroom gravy.
Looking to have a small intimate meal with co-workers or family?  Chef Snyder has his special "Chef's Room" where you can work personally with the Executive Chef to design the perfect meal.
Since they are so new, there are only a handful of posts on the web.  But each post that is there gives Brick Walk Tavern close to five stars.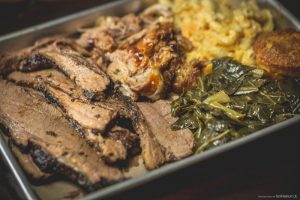 Aunt Viv's Homestyle Cooking is a food truck that serves the whole Bridgeport area.  Serving up southern style comfort foods they like to put an interesting twist to their meals.  They have a signature dish called the Potato Explosion.  They start with a large potato and you pick what goes into it.  Pick whatever meat you want add some cheese and their signature barbecue sauce and you have a full meal on your hands.
Owner, Sarah Bridges, named her Aunt Viv's Homestyle Cooking food truck after her mom, Vivian.  The matriarch of the family, Aunt Viv loved to have friends and family over to enjoy her sumptuous meals.  Along with her husband, Robert, their dream of running their own food truck became a reality.
The online posts are positive and there are over one hundred to date.
Any good restaurant owner or manager knows they should have hood cleaning done at least once every three months.  This is a National Fire Protection Association Code 96 recommendation.  If a restaurant does not have hood cleaning done on a regular basis, they put their clients and employees at risk because the grease build up can cause a fire hazard.