In the 2017 census Phoenix, Arizona showed a population of one million six hundred thousand.  The typical household has a median income of $43,960 which is weird as they list the average salary as $53,898.  The average home value in Phoenix is $235,200 which is eight-point-four percent over the past year.  Home prices are predicted to increase another four-point-three percent in the coming year.
Industry in Phoenix include Technology and Innovation, Bioscience and Health Care, Film and Digital Media, Advanced Manufacturing and Aerospace and Defense.  Phoenix is by far the largest city in Arizona which brings in many other businesses to support and service their population.
Dining out in Phoenix is very common occurrence as many people commute and find it hard to plan meals.  Some will go out three to four times per week!  In 2015 it was estimated that there were about two thousand nine hundred places that were listed as a bar or restaurant.  As you can imagine the competition to stay open is fierce.  This article will review three barbecue restaurants in the Phoenix area.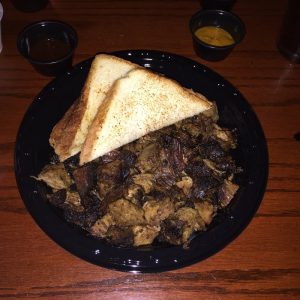 Frasher's Smokehouse was established in 1999.   Located on E. Indian School Road and 32nd Street, they have brought together three types of barbecue in their restaurant.  From Kansas City delicacies like burn ends, to Carolina-style pork to Memphis-style dry rubbed ribs they use Arizona pecan wood to create their magic.
Frasher's Smokehouse are big fans of the Blues and love to play it in their restaurant.  You can enjoy the tunes as you feast not only on their meats but their sides as well.  Try the Green-Chili Mac and Cheese or their freshly prepared baked beans then chomp on some amazing Smoked Corn.  Finish up your meal with Gooey Butter Cake and they will have to wheel you out of the restaurant.
George Frasher is a hands-on restaurant owner and Pitmaster.  He graduated from University of Missouri-Columbia Hotel and Restaurant Management program.  He worked his way through college in restaurants as a dishwasher, server and cook.  Eventually venturing into owning a restaurant of his own.
Their restaurant is so popular that it is not unheard of for them sell out of meat.  Frasher's Smokehouse has won numerous award like being listed "50 Best Places to Eat" by Phoenix Magazine.    The rave reviews on the internet put them above four stars.
Little Miss BBQ was started by Bekke and Scott Holmes.  They got their humble beginnings in the barbecue world by entering competitions.  While their first try was a complete disaster and their second try wasn't much better, they had the barbecue bug and they were determined to get better and better at it.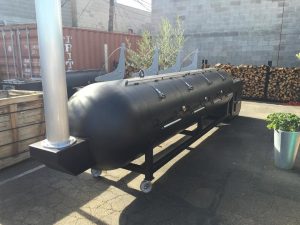 By their third contest, they placed first for their brisket, ninth for their pork and fourth place overall.  They opened their restaurant in 2014 and have not looked back.  They are located on East University Drive along a stretch of an industrial/office park.  Little Miss BBQ is open Tuesday through Saturday from 11:00am to 4:00pm, however, they usually sell out before then, especially their brisket.  It is recommended you get there by 10:30 to line up and get your meal early.
I was reading an article that was done on them in the Republic in November 2014.  I can truly tell you they don't do justice to their "About" page but this guy extolls their amazing place.  He describes their meats as "insanely scrumptious" saying their brisket is the best he has ever tasted.  When ordering the brisket, you are offered a piece from either the fatty end or the lean end.  Come On!  Why count calories when eating the best barbecue every.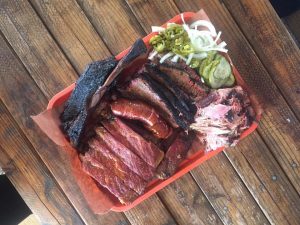 Bekke is from Austin, Texas so when they would visit her parents, he would make an effort to visit some of the finest barbecue Austin has to offer.  He mentioned the Salt Lick which I have been too since we landed here in August.  He works to mimic their barbecue and make it better.
Serving their meals on butcher paper, they come with pickles, onions, jalapenos and white bread.  All meats are cooked for most of the night and day in their fourteen-foot-long by three-foot-wide custom-made smoker from Texas using Pecan as their preferred smoking wood.  With over thirteen hundred reviews and a four-point-eight-star rating, this is a place very worthy of putting on your list when visiting Phoenix.
Bob Sikora opened Bobby-Q BBQ in 2005.  It was not his first adventure as a restaurateur.  Bobby dropped out of school at the age of fifteen to become a fry cook at one of Phoenix's first McDonalds.  By the time he was twenty, Bobby opened his first restaurant, Bobby's Pancake Stand.  With the true entrepreneur spirit, Bobby opened several restaurants as the years past.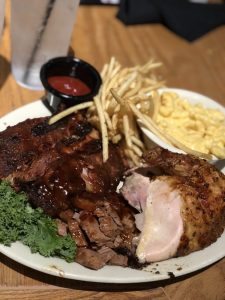 Bob opened a live music place in 1966 where he had acts like Willie Nelson and Waylon Jennings.  Glamming onto the disco era, Bobby opened Bobby McGee's in 1971.  He had a live DJ playing prerecorded music and it became so popular he had to turn people away.  This lead him to open Bobby McGee's world-wide with twenty-four dance halls.
After traveling the world, Bob wanted to try something different than before.  At one of the former Bobby McGee sites in Phoenix, he opened Bobby-Q BBQ.  Traveling extensively in the years, Bob was able to try barbecue in just about every form possible.  He brings his culinary expertise to every meal served.  Using a special blend of spices and slow cooking the meat with Mesquite and Almond wood produces the most amazing fork-tender brisket, smoky sausage links and hand-pulled pork.
There are now three Bobby-Q BBQ's to choose from.  There is the original one in Phoenix, then there is one in Mesa and one in Biltmore.  There are over two thousand five hundred positive posts on the web so I imagine you would not be disappointed when you go there.  Oh, they do take reservations.